Magic, the art of illusion, has been used to entertain and amaze for centuries. While it may not be the show-stopper it once was, magic tricks still have the ability to impress and entertain people from all walks of life. For most people though, magic offers an excellent way of breaking the ice when meeting new people or entertaining family and friends. Many have turned to a magic learning DVD to help them master these magic tricks.
Of course, there is a wide variety of different types of magic tricks each with its own unique advantages and disadvantages. For instance, magic card tricks are often the most entertaining, but they generally require the most skill and sometimes a special deck of playing cards. Coin tricks, on the other hand, generally require nothing more than a coin, but they are less spectacular.
Figuring out which type of trick and which associated magic learning DVD can be difficult. That is why we have put together a list of the 5 best magic learning DVDs available. Then we provide a helpful buyer's guide, so you can find the magic learning DVD that is right for you.
Editor's Choice
1. Ideal 100-Trick Spectacular Magic Show Suitcase – Best Child Magic Set With Learning DVD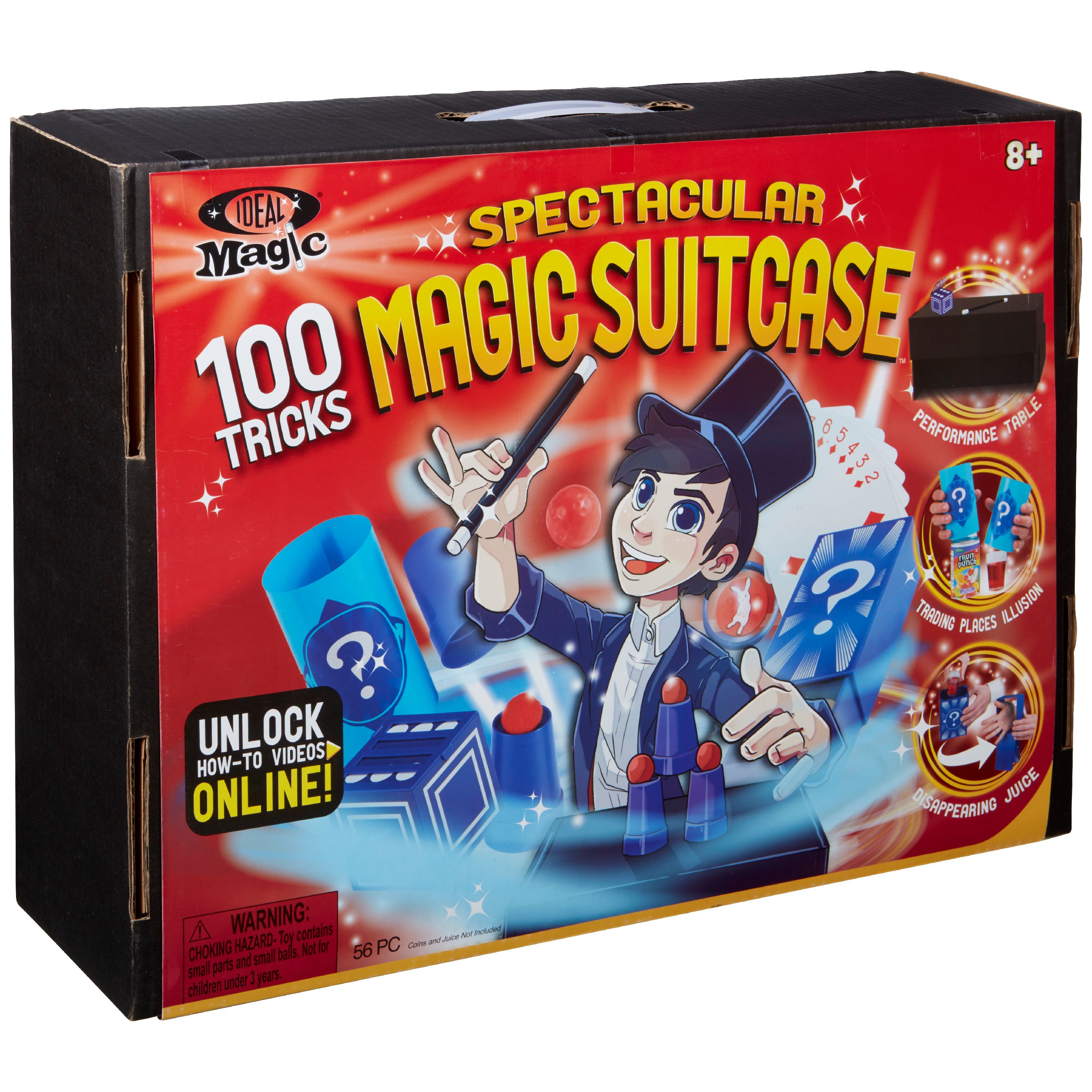 The ideal is a venerable toy company that was founded over a century ago. These days, it is a subsidiary of the Alex Brands company, but that does not change the storied history of Ideal Toys. First, popularize immediately following World War II, Ideal Toys is responsible for the iconic Betsy Wetsy doll, the first doll that simulated relieving herself. Ideal Toys followed that product up with another giant in the industry: Mouse Trap. In the 70s, Ideal Toys began to focus on action figures until 1980 when the company brought the world the Rubik's Cube.
Great Solution For Children
That said, this magic kit definitely provides plenty of value for the budding magician who looking to make his or her first entry into the field. That said, this is definitely a kit for children and not adults even amateurs. Though, this is the only magic learning DVD we reviewed that provides instruction for a wide variety of different magic trick types.
The thing that makes this kit good is also what actually ends up being its flaw. Essentially, the Ideal magic kit comes with a full suite of props that are well-suited to provide ample variety in the type of trick. There are a number of trick boxes, trick cups, and even some of the standard magic props like a trick hat and trick wand. Still, that does not change the fact that all of the different props are made for children.
This kit comes with a suitcase of sorts that can also double as a performance table and can be an excellent children's beginner kit.
DVD Is Also Good
That said, when it comes to the instructional DVD, this can still be a valuable magic learning tool – regardless of the age group. The instructor is Ryan Oakes a magician for almost three decades who also practices as a mentalist. His instructions are both clear and easy to follow as he takes his time explaining the trick slowly and fully-keeping in mind his likely audience is children. As such, if you actually go out and purchase better props, the DVD may be worth the cost alone for an adult amateur magician.
Pros:
Offers a wide variety of magic tricks.
Comes with a complete kit of props.
The instructor is a professional magician.
The instructions are easy to follow and understand.
Includes some intermediate level tricks.
Cons:
It is not a DVD. It is a full magic set.
Most of the tricks are card tricks.
Best Marked Deck Card Trick Magic Learning DVD
2. Magic Makers Royal Road to Card Magic Deluxe Magic Training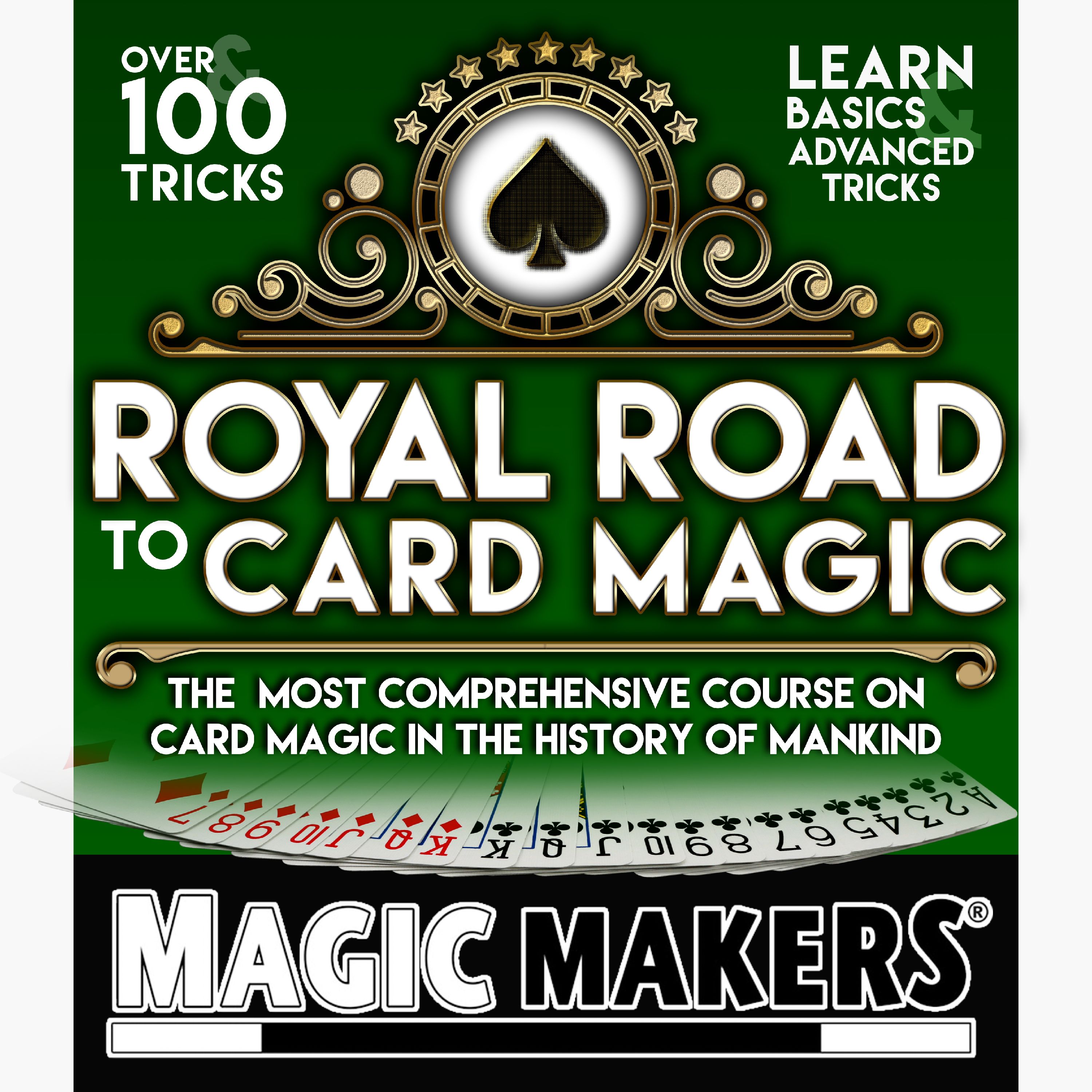 The Royal Road to Card Magic is exclusively a card magic trick kit made by Magic Makers. Magic Makers is one of the premier manufacturers of beginner and intermediate magic kits and instructionals and offers several products that even advanced magicians can either find value in or genuinely need as part of their act. The company is headed by Rob Stiff, who is himself a professional magician and takes pride in ensuring that his company provides quality products to the field of magic.
This kit is actually a step-by-step walkthrough of the book "Royal Road to Card Magic" written by Jean Hugard. One disappointing quality is that this kit does not include the book, which inspired its creation, though it is not necessary to learn the various tricks that the Royal Road to Card Magic teaches. In fact, this kit is completely self-contained, requiring no additional materials to pull off virtually every trick shown.
Special Deck For Amazing Trick
While many of the tricks in this kit can be accomplished with a standard deck of playing cards, the Royal Road also provides a copy of the Deland deck, a specialized deck of marked playing cards with the backs of the cards marked in different ways to provide the magician easy knowledge of the cards faces down.
That said, the ease of the Deland deck only extends as far as your memory since it does not provide any other indicator of the face-down cards, unlike some other specialized decks. Still, marked cards are the easiest to work with and pull off the numerous sleights common to magic card tricks.
Nice Instruction And DVD
In terms of quantity, while not the most, this kit does offer a fair number of tricks at 100. On top of that, the Royal Road also provides a wealth of techniques that can make performing the tricks and sleights easier. The instructions are presented clearly, and it is easy enough for even young children to understand. Not only are the instructions clear, but the video presents the visual aids in slow-motion, so you can get a better idea of the subtle, dexterous movements the magician's hand makes to pull them off.
This magic learning DVD contains tricks for every magician's skill level, though the overwhelming majority of the tricks center around the beginner to intermediate skill levels. While Rudy Hunter is personable, he no longer practices as a magician and has instead become a self-help guru and mentalist. This is probably for the best as his presentation is definitely a bit lackluster, as is the video quality. Also, this kit's packaging is definitely on the substandard side as it includes a standard Ziploc bag to help you keep all of the items organized.
Pros:
It offers 100 different card tricks.
Provides a special deck of marked cards.
The instructions are easy to follow and understand.
Includes tricks for every level of skill.
Provides several techniques.
Cons:
The presentation is lackluster.
Ziplock packaging is subpar.
It does not include Jean Hugard's "Royal Road to Card Magic."
Most of the tricks are beginner to intermediate.
Best Card Trick Magic Learning DVD
3. Magic Makers 120 Card Tricks, Complete Card Magic 7 Volume Set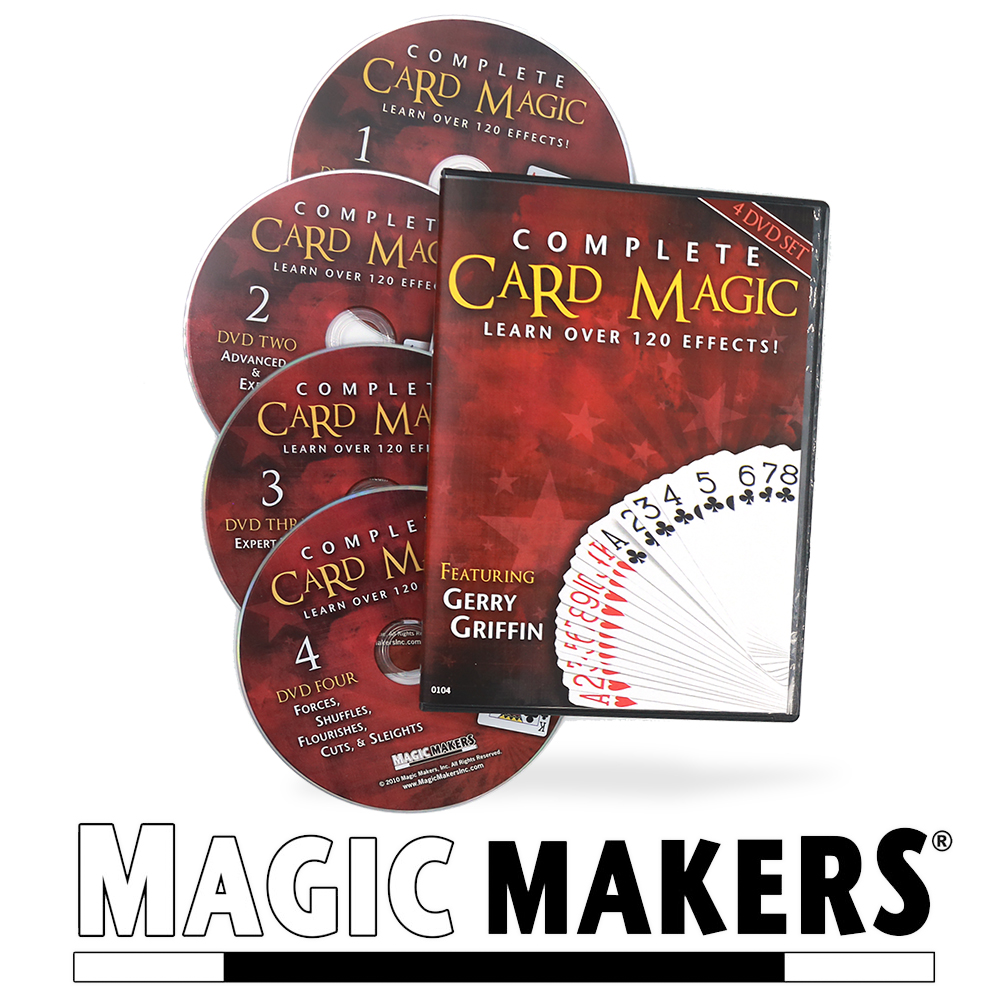 Because they hit the sweet spot between requiring very little initial investment while being a bit more entertaining than some of the other types of magic tricks, which similarly rely on little to no additional props, magic card tricks are often at the top of every magician's toolkit. Many magicians have made an entire career off little more than magic card tricks, including numerous magicians who perform on television programs.
Tricks For Every Day
Of course, the quality of your performance is directly tied to the quality of your tricks. In this regard, it can help to have a wealth of tricks available depending on how the audience responds. Whether at a party, work, or the club, having the right card trick can break the ice and quickly make you popular. That is why, even though this magic card trick kit does not even contain a deck of cards, we consider it to be the best magic card trick learning DVD we saw.
With a total of 120 tricks, this magic learning DVD taught the second-most total tricks out of any other DVD we reviewed. On top of the actual card tricks provided, this DVD also offers several different techniques you can use to help pull off your magic card tricks more reliably.
Features Of Learning DVD
This magic learning DVD also provides tricks for every level, though most tricks are meant for beginner level magicians.
Moreover, because many of the tricks use a regular playing card deck instead of a trick deck, they require the deck to be pre-arranged. While this is not much of an issue for the first deck, it definitely makes pulling off an encore a bit difficult unless you plan to run to another room to rearrange the deck again.
In terms of the DVD's instructions, this too has a bit of good and bad. Like many of the DVDs on our list, the presentation is nothing to write home about. The performer, Gerry Griffin, is a highly respected magician in the community and does an excellent job instructing. His instructions are clear and easy to understand as he walks you through the tricks step-by-step. That said, the DVD video quality is fairly poor since it is a port from a VHS recording.
Pros:
Teaches 120 different card tricks.
Includes tricks for every level of skill.
Provides several techniques.
The instructions are easy to follow and understand.
The instructor is a professional magician.
It is a less expensive magic learning DVD.
Cons:
Does not come with a deck of cards.
The presentation is lackluster.
Most of the tricks are beginner level.
Many tricks require pre-arranged decks.
Best Coin Trick Magic Learning DVD
4. Modern Coin Magic By Magic Makers 170 Coin Tricks & Moves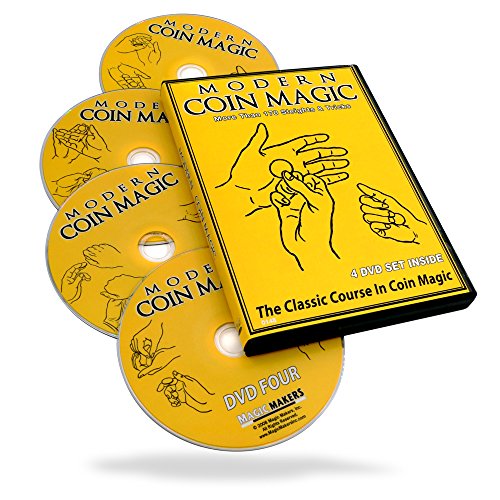 When comparing the two, magic card tricks and magic coin tricks, both have something similar going for them: they do not require a significant number of props to pull off. In this regard, magic coin tricks actually have the advantage as they generally do not require more than a single coin though it may need to be a somewhat uncommon coin depending on your hands' size. On the flip side, magic coin tricks are often not as impressive as magic card tricks, so it is a matter of which you prefer.
The Modern Coin Magic learning DVD is another product we reviewed made by the prolific magic company, Magic Makers. This DVD set also has the advantage of providing the most magic tricks out of any other product we saw. The 170 magic coin tricks taught by the Modern Coin Magic DVD set is 50 more magic tricks than the next closest competitor. Of course, it is not always simply a matter of quantity.
Is It Good?
Thankfully, the Modern Coin Magic learning DVD also provides a wealth of quality tricks as well. In fact, this magic learning DVD set offers more advanced magic tricks for its niche than any other DVD set we reviewed. Even better, this magic learning DVD set also offers a dizzying number of techniques to provide additional skills for pulling off the magic tricks as well.
This is largely due to the diligent instruction of the performer, professional magician Ben Salinas. Like other products on our list, the Modern Coin Magic learning DVD set is a visual instruction on a book of magic tricks that have existed for decades, J. B. Bobo's "Modern Coin Magic." While this magic learning DVD set does not come with the book, it is arguably more important for a budding magician to learn this book's tricks than perhaps some of the other books tied to products we reviewed. This is because magic coin tricks are more difficult to articulate, so visual instruction is almost necessary for some more advanced tricks.
Ben Salinas is a great instructor who provides clear and easy to follow instructions while at the same time presenting a personable front. Moreover, he provides plenty of additional insights that will improve your ability to pull off the trick and perform in front of people. In terms of production value, this is arguably the best-produced DVD set that we saw, though it is definitely not up to contemporary standards.
Pros:
Only magic learning DVD focused on coin tricks.
The instructor is a professional magician.
Provides 170 different tricks and sleights.
The instructions are easy to follow and understand.
Provides advanced-level tricks.
It is a less expensive magic learning DVD.
Cons:
Does not include other types of tricks.
May require uncommon coins depending on hand size.
The presentation is lackluster.
It does not include J. B. Bobo's "Modern Coin Magic."
Best Rope Trick Magic Learning DVD

5. MAGIC TRICKS DVD – An Amazing Magic Tricks DVD Collection of Classic Rope Tricks and Stunning Magic Tricks with Rings and Strings
Magic Touches is one of the brands on our list that does not specialize in magic trick kits. While they actually offer a fair number of them, they also sell painting supplies and sports towels. That said, magic trick kits make up most of the Magic Touches catalog, and this magic learning DVD is the fourth in the series. This is also the only magic learning DVD set that focuses on rope tricks.
Rope tricks are similar to many of the other trick types we reviewed in that they do not often require additional props to pull off. That said, some of the more advanced rope tricks do require a ring or other prop. One of the biggest advantages of this magic learning DVD set is that it is the least expensive product we reviewed, making it a great option for the budget-minded magician.
VHS Quality. Again
In terms of instruction, this magic learning DVD is fairly parred for the course when compared to its competition. The video quality definitely leaves a bit to be desired and is clearly a port from a VHS recording. Moreover, the instructor in the video is not a well-known magician, nor is he especially personable.
That said, the instructions themselves are the same high quality that we have seen time and time again throughout our list. Easy to understand and clearly articulated, the instructions are not difficult to follow, though the tricks will still take plenty of practice. That said, this magic learning DVD also includes several sleights of hand tricks to make pulling off the actual magic tricks easier.
Pros:
Only magic learning DVD focused on rope tricks.
Less expensive than some of the other magic learning DVDs.
The instructions are easy to follow and understand.
Provides several sleights of hand techniques.
Cons:
The presentation is lackluster.
Does not include other types of tricks.
Some of the tricks require additional supplies.
Does not provide advanced level tricks.
Buyer's Guide
Best Magic DVDs Buyer's Guide
Props
Depending on the type of magic tricks taught, you may require some props to perform them. For a large number of magic trick types, these props are often little more than things that can either be easily found at home or purchased for little cost. Simultaneously, some of the more advanced tricks will require additional props, of which high-quality versions can be somewhat costly.
One of the most common types of magic trick that may require a specialized prop are card tricks. While many card tricks can be performed with a regular deck of playing cards, some card tricks are benefited by or outright need a special deck of either marked or physically altered in some way.
DVD
This is clearly the most important part of any magic learning DVD kit. However, one thing to keep in mind is that all magic tricks, regardless of skill level, require a high degree of dexterity and often many hours of practice to pull off properly. The DVD also often works best when it supplements or is supplemented by a booklet. Booklets allow the manufacturer to provide static information that you can easily go over and over again at your own pace. Still, several factors can help you judge one magic learning DVD against another.
Instructions
The magic learning DVD's whole point is to help teach you how to accomplish the magic tricks. If the instructions are not presented clearly in a manner that you can easily follow, they may as well be presented in Greek. The clarity of the instructions can often be boiled down into two factors: articulation and clarity.
The instructor must present the information in a clear voice with a measured cadence. If the speaker has a speech impediment, you may have difficulty understanding the instructions. Likewise, if the instructor speaks too quickly, you might miss some vital information, while too slowly will make it difficult to remain focused.
Quality
The production quality of the DVD may not be the most important factor, but poor video quality will definitely stand out.
Considering you need to focus all of your attention on the instruction, it can work against your DVD learning to be of poor video production. Granted, nobody really expects these DVDs to have movie-quality video production with CGI special effects. Still, many magic learning DVDs use recordings made on a VHS and ported over to a DVD format. This can be a much bigger problem for children who are more likely to be turned off by the outdated video production.
Performance
This is the least important part of the magic learning DVD, but it can offer some advantages. Granted, even a poorly performed instructional video is unlikely to impede your learning process unless you are a young child or have difficulties with your attention span. Still, any magic trick's ultimate aim is to eventually perform it in front of an audience, even if that is only one person. As such, having a bit of showmanship in the DVD as well as an instructor who provides tips towards this end can benefit the quality of the trick and the reaction you get from your audience. Somebody who performs a magic trick with a bit of flourish will get a better response than someone who runs through it like a chore.
Variety
Most of the time, a magic learning DVD set will focus on a single type of trick. Whether it is card tricks, coin tricks, or rope tricks, you will likely have to buy multiple magic learning DVD sets to cover them all. That said, there are a couple of complete magic kits, but they do not always provide the best props. In this instance, you may be better served to buy superior quality props separately but still using the variety magic kit instructional DVD.
Editor's Verdict
Conclusion
Ultimately, the choice of which is the best magic learning DVD will come down to your strengths and weaknesses. If you want a magic learning DVD that requires almost no props, then the Modern Coin Magic is likely your best bet. Of course, if you want to test your skills with somewhat more impressive magic tricks, the Magic Touches Classic Rope Tricks DVD is probably a better bet.
Of course, kids will often want to get in on the fun as well, in which case Ideal Toy's Magic Show Suitcase is a good entry with a wide variety of tricks. For card tricks, the Royal Road is a classic and provides a marked Deland deck, but the 7 Volume set is the better all-around value.
Best Magic Learning DVD in 2021