Some love it while others hate it, but the one thing you cannot do is ignore a well-performed magic trick. With a simple deck of cards and plenty of practice, anyone can liven up a party or other social gathering with a select few magic card tricks. Of course, nobody wants a single trick, as that would get stale rather quickly.
Instead, it is far better to have a whole suite of magic card tricks up your sleeve. That is where the magic card trick kit comes into play. With a full set of instructions and often including a special trick deck, these kits can provide dozens, sometimes hundreds of magic tricks to entertain and amaze.
Still, with so many different types of magic card trick kits available, it can be difficult to figure out which best suits your needs. That is why we have put together a list of the 5 best magic card trick kits.
Best Marked Deck Magic Card Trick Kit
1. Royal Road to Card Magic Deluxe Magic Training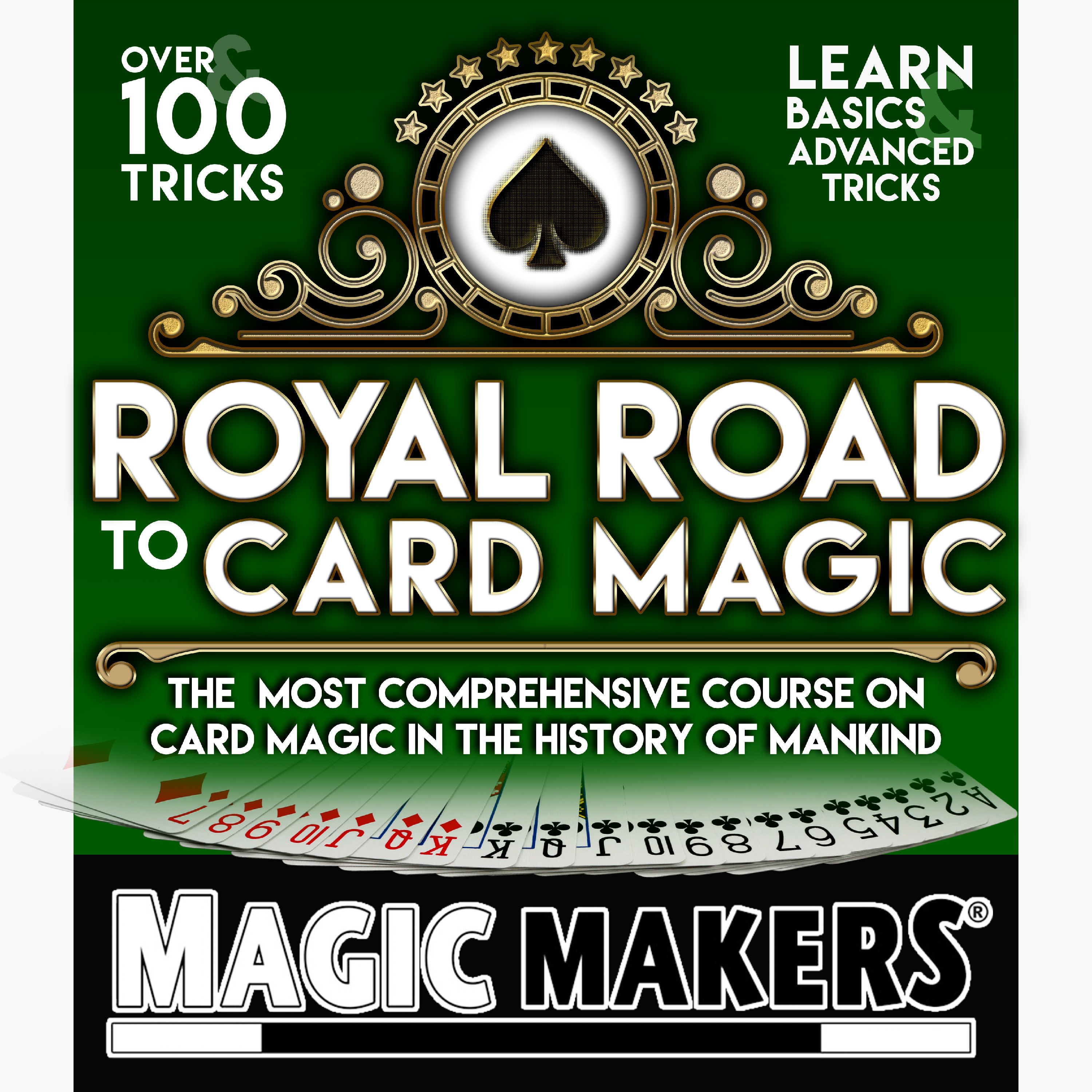 The magic card trick kit is made by Magic Makers Inc., a company well-known for manufacturing a wide variety of magic trick kits, not just those relating to card tricks. In fact, Magic Makers offer pretty much every type of trick that an amateur would use, many of which are also tricks that professionals would use. As a small company headquartered out of South Dakota and run by a professional magician in Rob Stiff, the company has a vested interest in ensuring that their products are high quality.
You Will See Everything
The Royal Road is one of their premier magic card trick kits, but you should come into the purchase with a clear understanding of its strengths and weaknesses. While this magic card trick kit does provide a DVD, it is somewhat underwhelming. The magician is personable and takes an instructional approach.
That said, the video is easily one of the best when it comes to the instructions provided. The magician offers clear instructions that are both specific and easy to understand. Moreover, the video offers slow-motion, close-up views of the different tricks, so you can see what the magician does in a frame-by-frame presentation.
This kit comes with a set of marked cards, specifically the Deland Deck. This type of trick deck is easier to use since it does not rely on quite as much sleight of hand as some of the other trick decks out there. That said, you will have to memorize the markings if you want to make use of this deck.
Pros:
Provides a training DVD.
It offers a good number of tricks.
Provides a special deck of cards.
The instructions are clearly explained.
Cons:
Provides a training DVD.
Offers a good number of tricks.
Provides a special deck of cards.
The instructions are clearly explained.
Best Advanced Magic Card Trick Kit
2. Packet Killer 45 Tricks with Special Bicycle Deck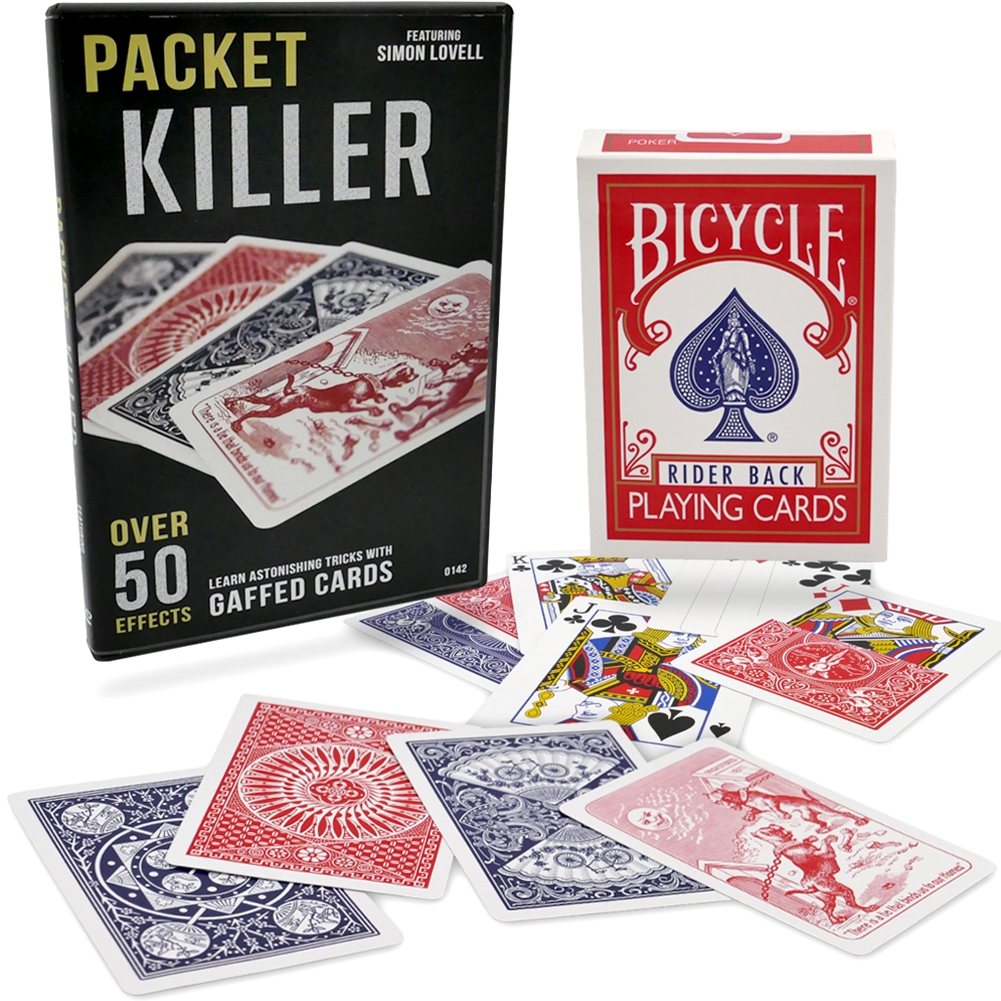 The Packet Killer is another Magic Makers magic card trick kit. However, this one definitely distinguishes it from the other magic card trick kits the manufacturer offers in several distinct ways. Moreover, this magic card trick kit is a bit more professional in its packaging and presentation.
Arguably the biggest difference between this magic card trick kit and the others we reviewed is that it offers the fewest tricks out of any magic card trick kit that we saw. That being said, sometimes it is more of a matter of quality over quantity. Specifically, a number of the magic card trick kits that we reviewed stuffed their product with beginner tricks but were surprisingly short when it came to intermediate and advanced tricks.
From Beginner to Professional
In fact, some of the magic card trick kits we saw did not actually include legitimately advanced tricks. With the Packet Killer, that is not the case. Though totaling only forty-five in number, each skill level is given equal weight providing fifteen different tricks for beginner, intermediate and advanced levels.
This magic card trick kit is different from many of its competitors with the inclusion and use of a gaff trick deck. Unlike some of the other kinds of trick decks out there, a gaff deck is often required to pull off some more difficult card tricks. The Packet Killer offers the official Bicycle gaff deck, which is widely considered the best gaff deck available.
Expensive. Professionally. Qualitatively
One thing to consider is that this is one of the more expensive magic card trick kits we saw, though there are good reasons for that. The included DVD not only provides adequate, if unspectacular, instructions, but the magician goes through some of the more refined sleights of hand techniques that many of the other magic card trick kit DVDs do not.
Pros:
Provides a training DVD.
Includes a special deck of cards.
Includes legitimately advanced tricks.
Offers several technique tips.
Cons:
A fairly expensive magic card trick kit.
Offers fewer tricks than some.
Best All-Around Magic Card Trick Kit
3. The Ultimate Card Magic Tricks Set for Kids and Grown-ups Alike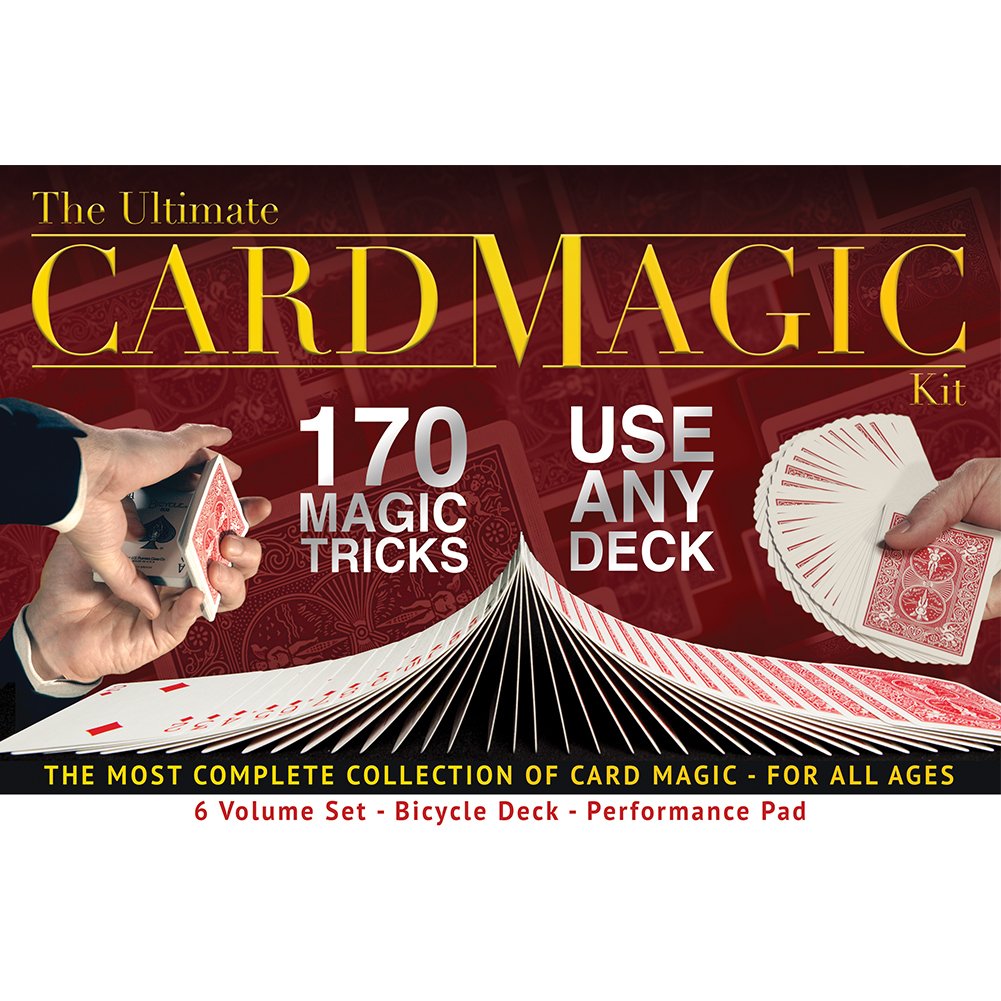 Unlike the other magic card trick kits that we looked at, this is the only one made by a company that does not actually specialize in magic tricks. While they do offer a decent selection of magic card trick kits and other more general magic trick kits, it is nowhere near their competitors' volume. In fact, Magic Touches offers several artists supplies focused on painting as well as sports towels.
Really Many Tricks
That said, this is still easily the best all-around value that you will find in a magic card trick kit for several reasons. While you are definitely paying far more for this kit than you would others, you are also receiving far more both physically and instructional. For instance, this kit offers the largest total number of tricks out of any other kit we saw, and it is not even a close call.
With over 300 different card tricks provided, you will likely have difficulty learning and remembering them all. That said, the instructions of some of the tricks leave a bit to be desired. Specifically, about one-third of the tricks are not covered in the DVD and must be learned from an included booklet. Moreover, the DVD itself is not the best we saw. The instructions are a bit rushed, and the magician does not provide any special techniques or tips found on every other DVD.
Three Special Decks For Your Card Tricks
Still, this deck offers further value in what it comes with. First, this kit comes three different decks: a regular playing card deck, a gaff deck, and a marked deck. Moreover, all of the decks have different tricks that the kit teaches you through many of the regular playing card deck tricks require the use of the gaff deck to pull off. On top of the different deck, this kit also comes with the Amazing Miracle Card Case, which can be used in some more advanced tricks like making a card disappear or restoring a torn card to perfect appearances.
Pros:
Provides a training DVD.
Offers the largest collection of card tricks.
Includes tricks for every level of skill.
Includes both a marked and gaff deck.
Cons:
The most expensive magic card trick kit reviewed.
The instructions can be a bit confusing.
Some of the tricks are explained by the book.
Budget Magic Card Trick Kit
4. Magic Makers 120 Card Tricks, Complete Card Magic 7 Volume Set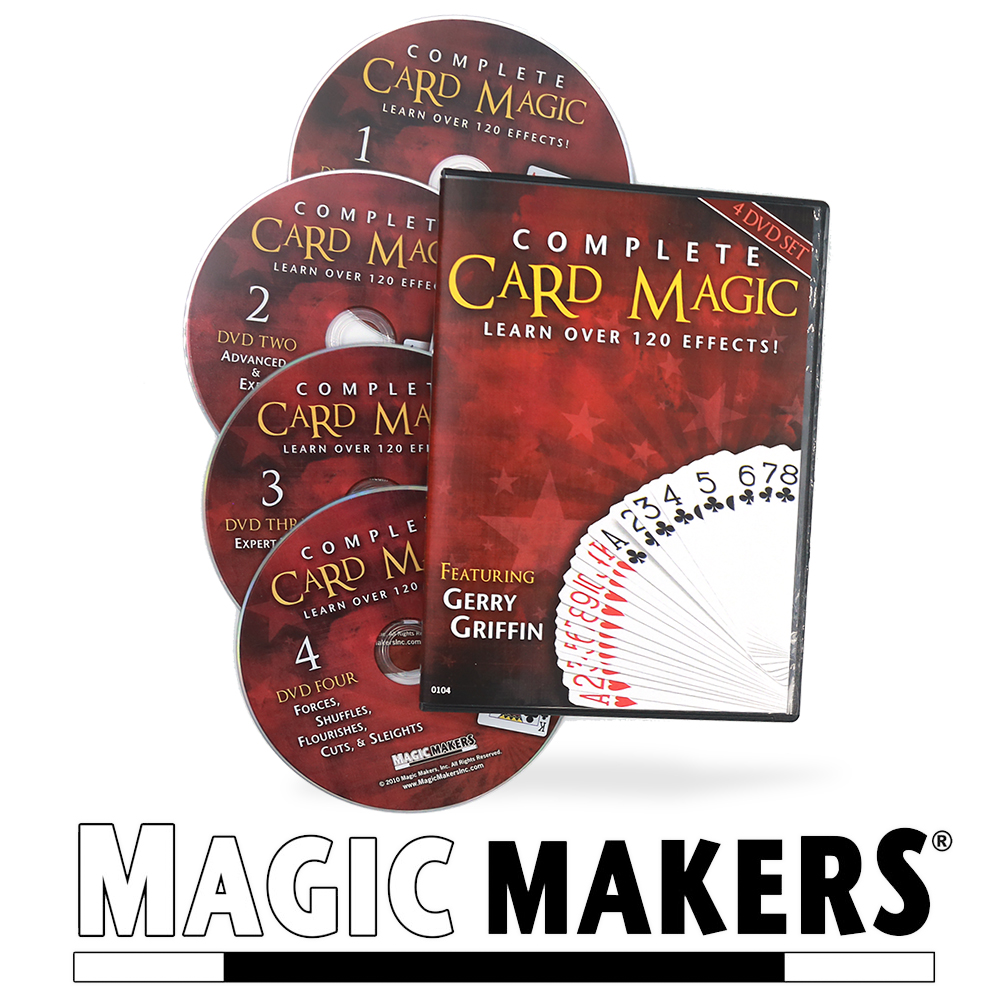 This magic card trick kit is definitely a unique one in that it is the only kit that does not actually include a deck of cards, either normal playing cards or special trick decks. That said, if you are willing to get the requisite deck required to train with this DVD set, you will not be disappointed. This is by far the best DVD set that we saw, though it is not without some flaws.
The Most Detailed Training From a Professional Magician
One of the biggest benefits of this DVD set is the magician. Gerry Griffin is a well-known and widely-respected magician who has years of professional experience under his belt. In fact, Gerry Griffin has sponsored and appeared in numerous magic instructionals and actually owns the exclusive California Magic Club, where many amateur and professional magicians ply their trade.
While not the largest, this DVD set definitely provide more magic tricks than some of the other magic card trick kits we reviewed. On top of that, this is one of the few magic card trick kits which offer legitimately advanced magic card tricks to learn. That being said, many of the tricks provided are actually beginner level. Still, this seven-volume DVD set goes a step further and even offers a full suite of instructions of techniques and tips that are not in themselves magic card tricks but are some of the best techniques to help pull off the most difficult magic card tricks.
Nothing Is Perfect
The fact that the instruction, breadth, and depth of tricks is so good only makes it more surprising that this DVD set's video quality is one of the worst we saw. It is almost certainly a VHS port to DVD rather than a retaping. Still, Gerry Griffin is entertaining and clear with his instructions and even offers several tips on performing beyond simply properly pulling off the magic card trick.
Pros:
Provides a training DVD.
Offers a large collection of card tricks.
Includes tricks for every level of skill.
A relatively inexpensive magic card trick set.
Cons:
Does not come with a deck of cards.
Many of the tricks have specific premises.
The DVD video quality is poor.
Most of the tricks are beginner level.
Best Svengali Deck Magic Card Trick Kit
5. JAW DROPPERS 80 Magic Tricks Kit: Complete Magic Course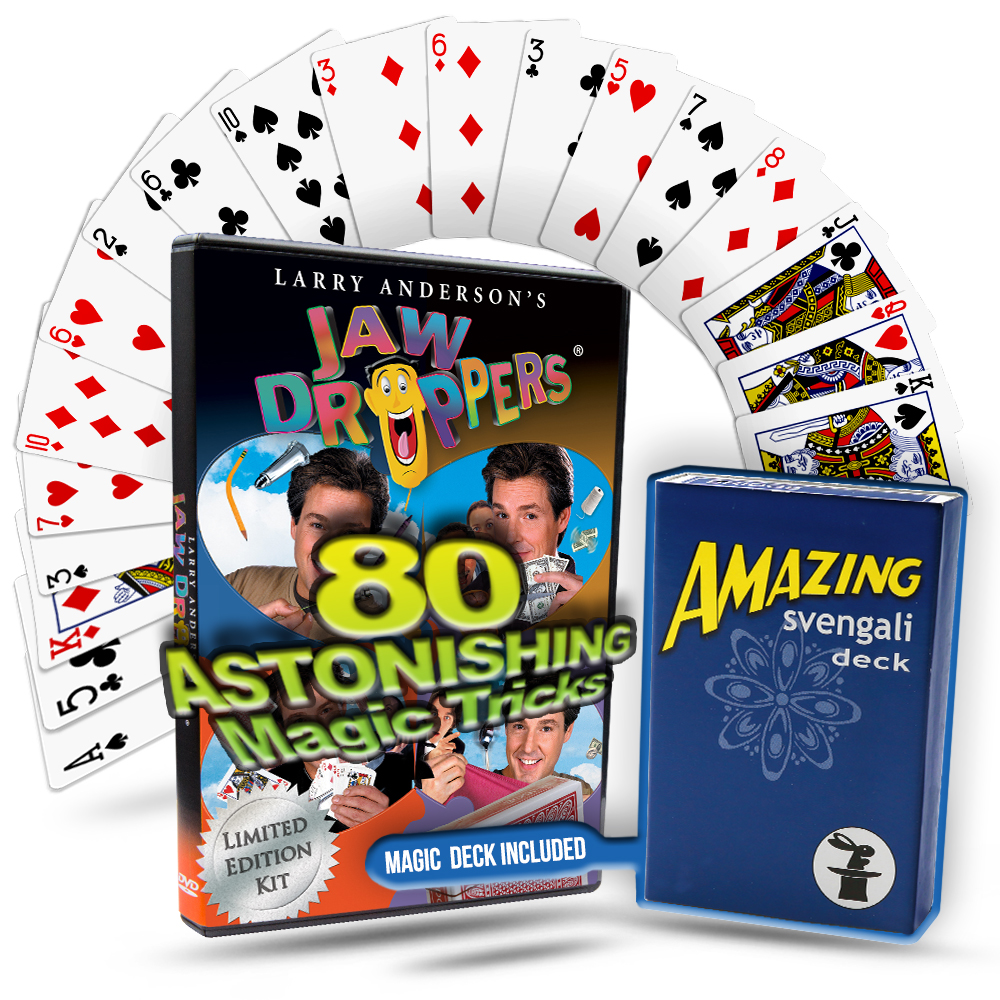 Our final magic card trick kit is another product from the expansive Magic Makers lineup, but this one is not nearly as specialized or focused as the other products we reviewed. In fact, this is the only magic card trick kit we saw that also included tricks for several settings and with a variety of premises that do not include or require a deck of cards regular playing or otherwise at all.
All For Fun
This kit provides instructions for coin tricks, dollar tricks, magic spoon tricks, and handkerchief tricks. Altogether, this provides a wealth of versatility and variety to keep your audience entertained. Unfortunately, this kit does not come with instructions for quite as many tricks as some of the other kits we reviewed, and the number or magic card tricks specifically is also less than preferred.
That said, the instructions are excellent. Professional magician and actor Larry Anderson host the DVDs. Anderson performs every trick and then takes through a thorough step-by-step breakdown of the trick, providing clear and easy-to-follow instruction.
On top of that, the DVD's video quality is one of the better that we saw though it is by no means HD.
Special Equipment
This kit also comes with a Svengali deck that is both a blessing and a curse. Svengali decks are excellent tools for magic card tricks, but they are also more difficult trick decks to master. This is a bit further compounded because most of the tricks are beginner-level, meaning you will likely spend more time mastering the Svengali deck than you will be mastering the tricks.
Pros:
Provides several non-card-based tricks.
Includes a special Svengali Deck.
Provides a training DVD.
Instructions are thorough and easy to follow.
Cons:
Offers the least number of card tricks.
Mostly for beginners.
The Svengali Deck is a bit complicated to use.
Buyer's Guide
Magic Card Trick Kit Buyer's Guide
Special Card Decks:
While most magic card tricks can be performed with a basic deck of cards, many of them actually require specialized decks to pull off. Depending on the magic card trick kit and the tricks instructed, a specialized deck's need to perform every trick taught will be a vital element rather than a convenient addition. Of course, most kits carry their own specialized deck, and while they may share similarities, they are often different in more than cosmetic ways.
The three most common types of special magic card decks sold in kits are Svengali Decks, Gaff Decks, and Marked Decks. Each of these is slightly different from the other and ultimately requires different techniques when pulling off the tricks. As such, it is important to know how they all work, so you choose the one that will best suit your abilities.
For instance, the marked and gaff decks both work on a similar principle of altering the cards' printed appearance, though they too function along with different principles. The marked deck is the easiest to use as the back of the cards are literally marked. However, this is not in a manner that easily draws attention and will ultimately be something you have to memorize to use properly.
The gaff deck works a bit differently. Instead of providing each card a distinguishing mark, the gaff deck is actually meant to be used in conjunction with a normal deck of cards. Generally, a magician will only use a few gaff cards in any given performance. The way gaff cards work can vary from deck to deck, but they often rely on two cards that can be combined to look like another card. A common example of this is the three of clubs that will have half of an extra pip, and when combined with a second similar card, will form into seven of clubs.
The Svengali deck is altogether different in that it does not rely on the printed image on the card to function. Instead, Svengali decks have twenty-six of the cards, which are shorter than the other twenty-six. This allows the magician to more easily identify the card and force the participant to choose the desired card.
DVD
Because card tricks require careful control and a high degree of dexterity, even the clearest instructions printed on paper may not be sufficient to adequately instruct you on how to accomplish the various sleights of hand required to pull them off. To provide additional value to the magic card trick kit, many of these products will include an instructional DVD as part of the package. Some of the better magic card trick kits will actually include numerous DVDs and may even break them up into various volumes of tricks.
Quality
Regardless of the number of DVDs or volumes, there are a couple of quality measures that can be used to differentiate one magic card trick kit from another. Starting with the least important in terms of instructional value but potentially the most important depending on the viewer's age, the resolution of the DVD can vary wildly across the magic card trick kit market.
The magician often sponsoring the magic card trick kit will have been contracted by the company and may have done so long ago. In this instance, the DVD included the magic trick card set may actually be a converted VHS recording that was ported over to a DVD format without rerecording the instructions.
While this may not actually affect the quality or clarity of the instructions given, it can affect the viewer's attention span. Children are notorious for having short attention spans and are far more likely to lose interest if the DVD resolution gives the impression of old footage. Conversely, an adult is likely to consider an issue, especially if they grew up with VHS cassettes, and note it as an anachronistic quirk.
Clarity
Because magic card tricks require deft use of misdirection and dexterous fingers to pull off the sleights of hand so common with them, the clarity of instruction is arguably the most important quality of a DVD included with a magic card trick set. In this regard, though, the clarity itself can be refined in a handful of ways.
The first and most obvious is the visual presentation of the instruction. If the instructional video is made from a single shot that does not change zoom or focus, the visual instructions themselves are liable to be fairly difficult to follow. From a distance, which would otherwise be necessary to frame the entire magician, the subtle moves of thumb and fingers can easily be lost, especially if the instructional video is an older port from a previously recorded VHS.
Instead, it is better if the visual instructions have at least two types of shots: the medium shot and the close-up. The medium shot is the one where the magician's entire body is framed. This is important because many of the elements of a magic card trick involve using your body or another hand to create the distracting misdirection that provides the time necessary to pull off the trick.
That said, the close-up shot is by the most important, and no magic card trick kit DVD is worth its weight in the sand if the visual instructions are not presented in a close-up shot. This type of shot allows the presenting magician to show in detail and slow-motion the specific movements your hand must make to perform the trick properly. Without this shot, you are essentially given a vague description at best.
Of course, this leads us to the next point about instruction: the verbal instructions. While the visual instructions must be presented in a clear and step-by-step manner, it is equally important for the verbal instructions also to be presented in just a clear manner. Even the best filmed visual instructions will be difficult to wrap your head around without clear verbal instructions.
To ensure that the verbal instructions are effective, the presenting magician must speak clearly in a measured cadence and use terms that are both specific and easily accessible. Because they are performers, magicians are usually good at speaking with the proper instructional cadence. However, their diction choice can sometimes fluctuate, especially if they use magician's jargon or technical terms instead of everyday speech.
Performance
This need not be a major concern, but it should definitely be considered. It is important to remember that in learning these tricks, either you or the person learning will ultimately want to perform these tricks for others at some point in time. If you have a magician giving a lackluster presentation, your own enthusiasm may wane as a result.
While there is no need for a stage performance pomp and spectacle, it is still nice if the magician instructs with a bit of timing, flourish, and style. Just as important as knowing how to perform the magic card tricks properly can provide an entertaining display. If not provides instruction on them as well, a performance that includes these elements is far superior to a video that runs through the magic card tricks, all things being equal.
Other Tricks
Though you may be in the market for a magic card trick kit, that does not mean the product must hew exclusively to that premise. The main draw of a magic card trick kit is that it offers an interesting icebreaker that requires little to no outside investment or additional materials that would already be readily available aside from a deck of playing cards, of course.
In that same vein, several other magic tricks similarly do not require any materials or supplies than those you are liable to find on hand at any party or social gathering. A cup, spoon, or similar item can be used for magic tricks and are all readily available at the appropriate functions.
This being the case, the addition of magic tricks beyond card tricks may be an appealing variation on the general premise you seek. Card tricks are nice, but given enough time, people may begin to tire of them. In this instance, it can serve as an equally effective icebreaker to mix it up a bit with a magic trick that does not involve playing cards.
Sponsor
While this aspect does not objectively matter, it can indicate the kit's overall quality. The reason is somewhat straightforward: a magician with something to lose is far less likely to put their name on a product that is not meaningfully or sufficiently well-made. Keep in mind that a few magicians have world renown that are sponsoring magic card trick kits.
There are not many magicians with world renown period. That said, there is a thriving subculture of magicians and performers with a similar code of conduct and ethics as any performers' organization. If there is a name tied to the magic kit, you can do a little bit of quick research to learn what their community thinks about them.
If the magic community does not think highly of the sponsoring magician, you may want to consider carefully whether you are willing to purchase a product that the community likely would not endorse. Another consideration involves whether the magician is still performing. The magician associated with a magic card trick kit will often sign that contract under a multi-year stipulation.
Some magic card trick kits currently have contracts with magicians that were signed over two decades ago. While that may not necessarily say anything negative about the kit itself, it could indicate whether the kit has adapted to new technology or techniques and whether or not the distributor is responsive to their customers in the event of an issue with the product.
Editor's Verdict
Conclusion
When looking for the best magic card trick kits, it is important to consider where you are personally in your abilities with magic, your hand dexterity, and your memory. All of these factors can help you find the best magic card trick for you.
For instance, if you have an excellent memory, the Royal Road magic card trick kit provides a good number of tricks and a marked deck to learn them with. Of course, if you are more dexterous without a superb memory, the Jaw Droppers Svengali deck might be more up your alley.
Of course, if you would like to learn how to use a variety of decks and get the most bang for your buck, the Magic Touches magic card trick kit offers 300 different tricks, three different decks of cards including two different types of trick decks, and an Amazing Miracle Card Case.