Who doesn't want to learn magic? Now everyone can learn magic secrets, and even try to do magic as a hobby and even as a profession. While there are tons of materials that teach magic from DVDs to online tutorials, Youtube videos, and also a personal tutor, nothing beats learning through books.

In this article, we review some of the best magic books for beginners and why you should buy them if you seriously want to learn the magician's trade.
Teaching yourself to do magic has never been this simple. The Complete Course in Magic teaches beginner level to expert level tricks with instructions that are easy to follow and will surely amaze your audience. It also comes with several pieces of advice on how to plan and stage professional-quality magic performances.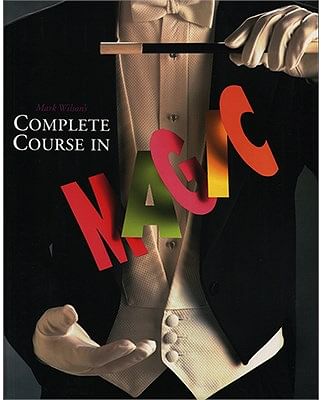 Authored by the renowned magician, Mark Wilson, the book has over 300 tricks that teach you the techniques that magicians have used to wow the world for centuries. The book is also well-written in plain English that can be understood even by grade-schoolers. The beginning chapters give you a sneak peek at the wonderful world of magic and the disciplines it would take for you to master it.
About the Author
Mark Wilson is one of the most recognizable magicians of the 21st century. He is one of the first performers to bring magic to the television audience. He first starred at a show called "Time for Magic" which was aired on a local Dallas TV station in 1955.
During the 1960s, Wilson starred on CBS-TV's "Magic Land of Alakazam" which every Saturday morning and had a healthy four-year run. Nani Darnell, Wilson's wife, often assisted him on most of the episodes together with Rebo the Clown, played by Bev Bergeron. When the show stopped its stint in ABC, it was later syndicated internationally and started Wilson's global popularity.
What's inside?
Mark Wilson introduces us to the world of magic through his book that is like a course. In the first few chapters, he discusses the importance of practicing a particular trick over and over again until it is perfect. Wilson also tells a wide variety of methods and sleight of hand which requires only a few things and can be performed almost anywhere.
Among his most discussed magic in the book is the use of illusions. He teaches the required techniques and the critical skills that are needed to pull off such feats. In the central section of the book, he goes into details four important aspects of a successful performance, namely:
Effect – letting the audience experience what you intend them to see
Secret and Preparation – the trade secrets of the magician circle including the props and how they work
Method – which tells the step-by-step formula on how to become a total performer
Personal Pointers – tips from the author on what works and what doesn't base on his experience
Among the tricks that require the encompassing element of illusion, the book emphasized on several of them including:
Card Magic
Impromptu Magic
Sponge Ball Magic
Cups and Balls Magic
Each magic trick also has accompanying picture illustrations that demonstrate explicitly the actions or steps that need to be taken. These illustrations are quite helpful, especially when the trick becomes more complicated or requires several elements to complete.
Aside from the tricks mentioned above, the author has also included some of the magic tricks that are meant to be performed at home, in front of your family or friends. Make at home magic also has a specific chapter in the book which details several build-it-yourself projects that guides you to create simple props.
Book Structure
The Complete Course in Magic comes in paperback and hardbound copies, with the former having 512 pages. It weighs 3.1 pounds and has dimensions of 8.6 x 11 inches, the same size as a regular bond paper. It was first published in 1975 and had several revisions with the latest revised edition, printed by the Running Press, released on May 19, 2003.
The cover for Mark Wilson's Complete Course in Magic was drawn by artists Tony Schmidt and Weaver Lilly. It features the iconic magician get up black suit, a top hat, and the wand.

Pros
Very detailed step-by-step procedure
Great photo illustrations
Affordable price
Loads of magic tricks inside
Cons
Several irrelevant tricks doesn't fit with the bunch
Some methods were hard to follow without added visual reference
Overall, this book is a great starter kit for anyone who is just a novice in magic.
For centuries, perhaps even millennia, magic has astounded crowds and even captured our imagination of the human species. The secret of the magician circle though has been private, though, was known only to its practitioners until a few years back. One of the books that revealed the tricks magician use is Joshua Jay's Magic: The Complete Course.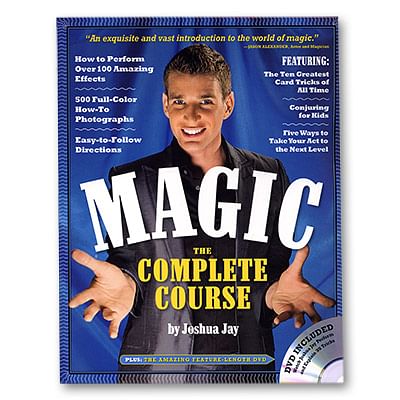 In this book, the author shares more than 100 tricks complete with step-by-step directions and photographs to guide the reader. The book is written in simple language that can even be understood and followed precisely by kids. It also teaches its readers several twists to the most common magic tricks to make it more exciting and enjoyable for the audience.
About the Author
Joshua Jay was a natural in performing magic. When he was just 16 years of age, Jay took the 1st place at the Olympics of magic – the World Magic Seminar. Decades later he became one of the well-known professional magicians of his time. He has written several books about magic.
What are tricks inside?
Jay has written some of the most entertaining tricks you can do for almost every occasion. Each of his magic tricks is also easy to do and can even be done impromptu. The tricks also need little to no props at all. However, Jay's tricks follow three important set of rules:
Effect – the reaction that you expect from the audience when misdirection is applied
The Secret – a scientific interpretation of how the illusion works
The Setup – the particular setting of the set including all the props and equipment needed
The Performance – the entire action taking place during the show
Depending on the offer, you can also buy this book together with a magic training DVD that has additional magic tricks you can learn. While this book is primarily for beginners, the author has also included several adept-level magic tricks. One of the best tricks that we liked was the trick involving to completely wipe-off a blister without any trace which you can do impromptu.
The book also talks about several types of magic tricks that the author has perfected over the years. Below are some of the tricks we just love:
Money Magic – plays with your bills and coins to create wonderful performances. Some of the neat tricks we learned was stretching and flattening the coin. He also showed how to turn black slips of paper into ten and twenty dollar bills.
Telephone Tricks – sometimes your audience doesn't need to be in front of you so you can impress them. In the telephone tricks chapter, Jay goes into detail on how you can talk your way into a magic trick.
Greatest Card Tricks – going back to basics, Jay has explored some of the longest running card tricks and has chosen some of the greatest of all time. He then tells the readers on how to perform them by breaking the trick down on minuscule levels.
Dinner Deception – offers the opportunity for the reader to perform live especially on simple occasions like a dinner with friends or family. The tricks also use some of the common items during dinners such as the utensils and food to make it more entertaining.
Book Structure
Magic the complete course comes in paperback form and can also be downloaded in Kindle as an e-book. Most offers also include an instructional DVD. The book is 288 pages long, weighs 2-pounds and is the size of a regular bond paper. It was published by Workman Publishing Company and released its DVD edition on November 8, 2008. The cover of this book shows the picture of the author.

Pros
Intricate step-by-step procedure
Cheap price
Great photo illustrations
Easy to learn magic tricks inside
Cons
Fewer magic tricks than the other ones on this list
Some tricks require too many items or props
Overall, this book is a must buy for those who want to learn magic without having to break the bank.
Card magic may be the easiest trick to perform because they usually require only a deck of cards. However, they can also be quite challenging to master, especially for beginners, because it also involves misdirection and communicating with your audience. Luckily, the book Royal Road to Card Magic shows you the ins and outs of card tricks.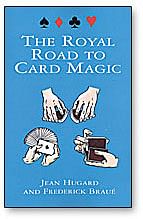 The book gives you a good head start on learning some of the most mind-blowing card tricks that will surely leave everyone in awe. With this book, the reader can learn some of the basic and advanced techniques such as how to correctly cut, false shuffle, glimpse, flourish, shuffle, pass, classic force and many more. The said techniques are necessary so you can manipulate the who trick and eventually getting the outcome you want which is usually picking the volunteer's card.
About the Author
The book is co-written by Frederick Braue and Jean Hugard, two of the most respected names in the magic industry. Both men were considered pioneers in this section of magic and have written hundreds of card tricks that even some of the professional magicians still use to this day.
Jean Huggard is a hall-of-famer on the Society of American Magicians and has been awarded the Silver Wand, the highest award given by the Magic Circle. He also has written more than 20 books about the magic including his last work – Houdini's "Unmasking:" Fact or Fiction.
Meanwhile, Frederick Braue was a journalist and at the same times a semi-professional magician. Other than contributing his talent of words, he also devised some of the tricks that were discussed on the book such as the Homing Card and the Braue Addition, which are quite good tricks especially when performed in front of a card.
What's Inside?
The two magicians explain the basics of card magic and some of the techniques required to pull off most of the tricks that involve a deck of cards. The book includes over 100 card magic tricks that are illustrated with about 120 clear line cuts which help to follow the instructions easily. Braue and Huggard have created in this book a step-by-step guide on how the reader can reach professional-level card conjuring skills.
The two have also shared some of the unique card tricks that can leave the crowd baffled if not amused. Some of the favorites we loved so much are:
Gary's Spelling Trick
Now You See It
A Tipsy Trick
Do as I DO
Kangaroo Card
The authors have also gone into the trouble in emphasizing the card skills mentioned above and how they are important to master first. Many of the tricks discussed can also be tweaked to fit the occasion where they are going to be performed.
Book Structure
The Royal Road to Card Magic is available in Hardcover and Paperback and can also be downloaded as an e-book in Kindle. The 320-page book was republished by Dover Publications on May 27, 1999. It's a much smaller, but thicker book than the ones on this list. Its cover shows an illustration of ways of shuffling, picking and cutting the card.

Pros
Very easy to understand and perform
Lots of illustrations for the card trick
Original card tricks that can be tweaked
Sold cheaply on Kindle
Cons
Hardcover's price is a bit too much
Tricks are limited only to magic cards
Growing up as a kid, a coin trick performed by my grandfather was one of the earliest instances that I experienced as magic. While they are simple and not as flashy as those performed on-stage, they are more personal and great for engaging a person. Kid's still loved it when you pull a quarter off their ears.
J.B. Bobo's Modern Coin Magic is considered as the bible of coin magic and might have all of the known tricks known today. It teaches you on how to pluck out a coin from thin air, make it vanish and even more complicated effects. Much like its title suggests, it has over a hundred coin sleights and has a couple of hundred coin tricks.
About the Author
J.B. Bobo is one of the authorities when it comes to coin magic. A magician himself, Bobo also authored a collection of magical effects that can be performed using small objects entitled "Watch this One." The author's surname came from his great-grandfather Jean Beaubeaux, who was a French immigrant to the US. J.B.'s grandfather induced the spelling of his surname to simply "Bobo," which is the phonetic translation of their surname.
The author compiled some of the best coin tricks of all time, not only his own, but also from some of the best coin conjurers such as T. Nelson Downs (considered as the best), Professor Hoffman, Robert-Houdin and many other notable pioneers.
What's Inside?
Two key factors in making a great coin trick are misdirection and sleight of hand; both were vividly discussed in the book. The author also shared some pointers on how the reader can perfect these two complimenting factors using several drills.
Bobo also touched on the basic techniques, vanishes, and concealments that needs a systematic approach and often requires to be integrated together to produce a convincing performance. One of our favorites was switching the copper and silver coins that were held separately on each of the spectator's hand.
The book is broken down into several chapters that explore the multi-faceted branch of magic called coin tricks. It emphasized on the common tricks such as the palms, the vanish and the utility switches. Bobo also was keen on other fundamentals such as gaffed coins, sleeving, color changes, and transpositions.
One of our favorites is the classic Miser's Dream where the magician pulls coins, such as quarters, out of thin air using an impressive sleight of hand. The trick is very useful if you want to perform at parties or dinners.
Book Structure
Modern Coin Magic is available in paperback, hardcover and downloadable on your Kindle. The book is 384 pages thick and slightly larger than your usual pocketbook. It's first published in the 1950's and was later reprinted by Dover Publications on February 1, 1982. It hasn't been revised since then.

Pros
Lots of coin tricks to choose from
Have tricks for beginners and experts alike
Very detailed instructions
Very affordable price
Cons
The book is not modern, and some tricks seem old
Several contexts of the book may seem irrelevant in today's time
While there are magic tricks you can easily pull off with just the right tools or props, nothing beats old school sleight of hand. It's what separates a great magician apart from the rest. Whether you want to do magic as a hobbyist or an aspiring professional, learning to be fast on your hands is a must do.
Bill Tarr reveals some of the best practices to hasten your hands so they can be fast enough for your audience not to see the trick. Whether it's making a deck of car vanish, multiplying coins out of thin air, pulling off an endless scarf or making a random object pop out, this book has got all the tricks broken down in this illustration intensive book that have about 1,500 line drawings that capture every hand movement you need to know.
About the Author
Bill Tarr is one of the most iconic persons in the magic industry. A magician who specializes in fooling his audience through his fast hands, Bill did his first tricks when he was only nine years old. During his youth, he practiced with card magic and eventually moved into manipulating objects from cigarettes to billiard balls.
Aside from being a magician, Tarr was also a great sculptor and has created some of the largest sculptures in the US including the Morningside Heights, Martin Luther King Jr. Memorial and a dozen other works in New York City.
What's Inside?
Using a learn-by-picture guideline, Tarr demonstrates some of the classic sleights that you probably seen a professional magician do. With the help of illustrator Barry Roos, the instructions were beautifully conceived on pictures and diagrams which the reader can easily follow.
Among the tricks that the author has touched on are:
Hand-to-Hand Card Spinning
The Cut and Restored Rope Trick
The Lit-Cigarette Trick
Three-Card Monte
The Three Shell Game
The author also discussed some of his trademark tricks that involve card fanning and vanishes. Many of the tricks also include daily objects such as a coin from another person's pocket, crumpled aluminum foil, regular deck of cards, and so on.
Structure of the Book
Now You See It, Now You Don't is a 224 pages thick paperback book that is the size of a regular bond paper. It was published by Vintage with the English language edition appearing in 1976. It hasn't been revised ever since then.

Pros
Beautifully drawn illustrations
Nifty sleight of hand exercises
Great collection of tricks
Affordable price
Cons
Some of the tricks are outdated
Several contents are out of context in today's time
Magic Books for Beginners: A Buyer's Guide
Being a magician, even if it's just a hobby, is a great endeavor as it always entertains and brings a smile (if not wonder) into the people's faces. When choosing which magic book would best suit a beginner like you, ask these questions first:
What kind of magic trick do I want to specialize?
Does the book have clear instructions about the trick?
Are the illustrations clear so I can mirror the steps myself?
Is the book worth its price considering the information inside?
If the answer to these questions is mostly positive, then we recommend you buy that book.
While today's modern world has brought us more media (i.e., Youtube videos, DVDs, e-books), it's still great to have a book teach you in the ways of magic. After all, I know of magic books, but I have yet to heard of magic videos yet.
Join the world of magic